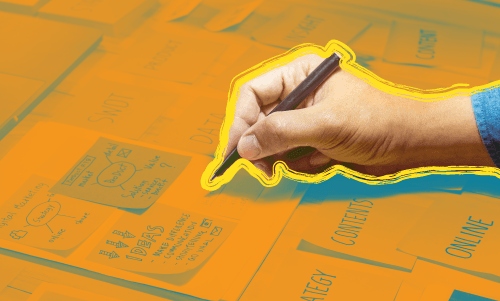 Business owners often view marketing as something to put on the backburner for when they have the necessary time and funds. But the reality is, marketing is not only desired, it's essential. Some would say that marketing is a necessary evil, but you know better—you know it's just plain necessary.
Marketing is the bridge between your products or services and your customers. It develops relationships, creates loyalty, builds credibility and cements a strong reputation for your brand. Without a presence in the market, you risk losing each of these essential growth elements.
Simply put: If you're serious about growing your business, then marketing is a smart investment that will help get you there. Not sure where to start? Check out these marketing areas to invest in that will move the needle for your print shop.
Brand Awareness
When your target audience is ready to buy, you want them to think of you first. Printing is necessary for businesses, events and virtually everyone at some point or another. The trick is staying top of mind for when your customer is ready.
Creating brand awareness is important because it fosters trust, creates association and builds value. Plus, when you have a brand that resonates, customers are more likely to recommend it to a friend or colleague. Create touchpoints with your potential customers through direct mail, email messages and social media. That way, you'll be on their minds when they're ready to do business.
Lead Generation
Waiting for customers to come to you simply doesn't make the cut. You need to find ways to keep new business coming in, which takes us to lead generation. Lead gen sounds simple, but it requires planning and coordination to make a successful marketing venture.
Gathering leads can happen in many different ways. From landing pages that offer an incentive to provide an email to expressing interest at an event, gathering leads can be done virtually or in person. Download your 4 Key Elements of a Successful Sales Funnel cheat sheet and learn how to create an effective sales funnel that results in satisfied customers.

Digital Marketing Campaigns
Just because you're a print shop doesn't mean you can (or should) avoid all things digital. Instead, coordinate online campaigns with your website to get the biggest bang for your buck. 
There are two ways to get your website noticed. First, search engine marketing (SEM) increases your visibility through organic results and pay-per-click advertising. Second, search engine optimization (SEO) is about driving traffic to your website organically through higher search rankings. You can have a  brilliant website, but if you don't invest in visibility and drive traffic to your site, it will fail to be effective.

Email Marketing 
If you aren't sold on investing in your marketing yet, this statistic is sure to sway you. For every $1 you spend on email marketing, you can expect an average return of $36. Plus, with email marketing you can segment your customers to create targeted and personalized content, build credibility and better brand recognition, boost sales, cultivate customer relationships and increase traffic to your website. That's a TON of benefits all from one marketing channel!
Now that you understand the importance of truly investing in your marketing, it's time to put your plan into action. Steer customers to your print shop storefront with concentrated marketing efforts that truly get results. Learn more about the marketing tools PrinterPresence offers, or contact Nina to uncover more opportunities for business growth.