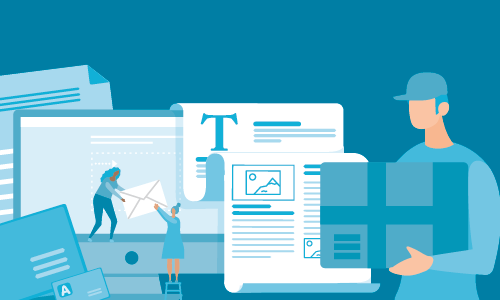 The pandemic may rage on, but there's one thing it can't shut down: the internet. That's why consumers have flocked online to make purchases, learn, do business, stay connected and even seek entertainment. In 2020, online is the "in" place to be.
An eMarketer survey shows that ecommerce is on track to grow 18% in 2020, and models like click-and-collect and curbside pickup are expected to persist long past the pandemic. You know who's driving that growth? Consumers who have turned to online shopping for the first time, with 12.2% growth for new online shoppers 65 and older. 
What this means for you: It's time to tap into the power of your website. It's the only way to keep up with changing consumer habits so you don't get left behind. Plus, think outside of your traditional print pieces to keep up with customer demand. What can you offer that people are looking for right now? 
Online catalogs. Promote your products and differentiate yourself from your competitors—catalogs can increase your revenue by up to 30%. Think about adding items like branded facemasks, water bottles, social distancing or curbside pickup signage, hand-washing posters, disposable menus. Also consider 3D printing.
Customer portals. Portals are efficient web-to-print solutions that encourage repeat business and help increase your per-order revenue by up to 20%.  Items your customers can easily reorder via portals include vehicle wraps that promote their URL, small branded hand sanitizers, retractable banners or window and floor decals, business package stationery.
VersaDoc™. Streamline your proofing process and reduce prepress time to fewer than 10 minutes. VersaDoc lets your customers take control of their online ordering. Think personalized sports or political yard signs, variable print social distancing posters and signs, business cards, letterhead, envelopes, brochures.
Your website will remain open and ready for business 24/7, 365, and with online ordering, you can make sure businesses and organizations have the products and services they need to stay afloat with just a click.
We're here for you so you can be there for them. Make it easy for customers to get what they need with point-and-click simplicity.
To equip your website with online ordering, schedule a chat with Nina.