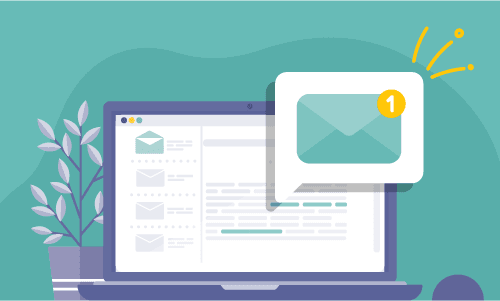 Print and email are two different worlds. You're a print shop, after all. Doesn't that mean you should be focusing your marketing efforts on, well… print? Of course, print is your bread and butter. But there's something about mixing in email marketing that can't be ignored. 
Email marketing allows you to reach both new and potential customers for a small cost and a big return. Return on Investment (ROI) for email marketing has been proven to see big results. In fact, email marketing has shown an average ROI of $36 for every $1 spent. That's a huge number—higher than other marketing tactics. (Litmus)
Email marketing has become a method that both customers and marketers enjoy. According to MarketingSherpa, 91% of US adults said they liked to get promo emails from companies they do business with. Plus, according to eMarketer, 80% of marketers said that email marketing helped them drive retention and acquire new customers.
Emails give your print shop the opportunity to further educate your customers on products and services, drive more traffic to your website and make important announcements, among many other things. Ready to get started? Use these five tried-and-true emails your print shop should be sending to customers to develop relationships for years to come.
1. Introductory Email
First impressions are everything, so make sure yours is a good one! When a customer or prospect signs up for your email list, greet them with a warm welcome. You'll want to use a conversational tone and include a discount for their first purchase with you. They're new around here, so make sure you treat them like the special customers that they are! 
2. Cadenced Newsletters
Your business is constantly evolving, and it's important to keep your audience in the know! Determine how often you would like to send a newsletter that includes company updates, new products, new services and any other regular updates you think are important for your audience. You can also feature employee spotlights so your customers can get better acquainted with your staff! This will help your audience feel more comfortable and connected when doing business with your shop.
3. Promotional Emails
Yearly sales. A special discount. Sending a deal just because. These are examples of promotional emails  you can send to your audience. Include something that incentivizes your customer to make their purchase. For example, offer free shipping on orders over a certain amount. Maybe it's a buy one, get one. Think about what makes sense for your business to offer in order to convert your customers! 
4. Surveys
After your first sale with a customer, it's important to find out how you did and how you can improve for the future. Was the order speedy? How was the quality of their printed goods? How about the customer service aspect? Develop a list of questions you can ask and send as soon as the transaction is complete, so the experience is top of mind for your audience.
5. Testimonial Email
Your current customers are some of your best assets when it comes to marketing! That's because they've already witnessed first-hand what your business can do. Testimonial emails are a great way to showcase the quality of service you've already provided and to build trust with your audience. 
Pssst—don't forget to ask for permission from your customers before using their testimonials. You can even ask them for a photo to include for a more personal touch. 
We can help give your print shop the tools you need to succeed with email marketing! From automated sending to personalized messages, our services will help you send at exactly the right time and with minimal effort, so you can get back to running your day-to-day!
Connect with Nina to learn more about our email marketing services! You can choose from hundreds of mobile-friendly, responsive and ready-made themes. Did we mention custom stationary that matches your website?! Get ready to seamlessly send today!