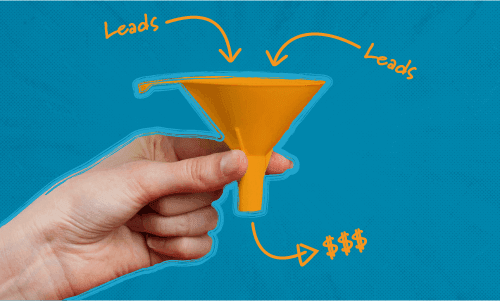 Acquiring new customers would be easy if it was a simple "point A to point B" linear journey—where you say "we offer these products" and your prospective customer says, "Sold." That might happen once in a great while, but typically the path to purchase for a new prospect requires considerably more touch points and effort on your part. That path to purchase is what we call a sales funnel.
To have a successful sales funnel and create a memorable journey for your prospects, you want to be sure that these four elements are a part of it.
1. A succinct one-liner. Also known as an elevator pitch, this is a clear and memorable one-sentence summary so people can quickly understand what you do and how you can solve their problem. The best one-liners include these three parts:
The problem
The solution
The result
An example of an elevator pitch for a print company could be: "We elevate brands and their voices with extraordinary, eye-catching printing so they can stand out in a crowded marketplace."
When you implement your one-liner, your business will begin to transform—as long as you get it out there. Have your entire team memorize it. Put it in your email signature. Make it your bio on social media. Feature it on your website. Print it on your business cards. Run ads with it. You could even paint it in your office, just get it out there and make it as visible as possible.
2. A piece of content that works as a lead generator. This could be a white paper, an ebook, a one-pager or worksheet and more. Whatever type of content you want to create, be sure it offers value for your audience. Touting your company's virtues may be fun, but talking about yourself doesn't offer your audience much value. For content to be a lead generator, it needs to be about the people you're targeting.
A compelling lead generator allows you to grow a list of highly qualified leads. Ideally, it will accomplish these five things:
Position your company (or a company leader) as a thought leader in your industry
Qualify your audience, or make sure your leads are a good fit
Create trust and reciprocity
Gather email addresses (this is what your audience gives you in exchange for your content piece)
Hook your audience with a compelling and relevant message
Your lead generator should live on your website, and you can use a variety of marketing tactics to get people's eyes on it: digital ads, emails, direct mail, social media and pop-up ads, to name a few. If you love this idea but you're not sure where to start the content creation, we can help.
3. A nurture email campaign. Nurture emails keep your business top of mind and help build the relationship you want to foster with your clients.
A nurture email campaign will usually focus on these four things: 1. Solving a problem. 2. Offering value. 3. Positioning your brand as the guide (how your product provides a solution to the client or prospect's problem). 4. Reminding the prospect you have a solution.
Some types of emails you can use in a nurture campaign include:
A welcome email, which could offer a promo code or welcome gift
Weekly announcements
Tips to help your audience solve problems with links to blog articles where they can learn more
Weekly or monthly notifications regarding inventory, events or offers
Repurposing blog articles or curated content
According to Ascend2's The State of Lead Nurturing report, 69% of marketers use email as their #1 channel to nurture leads. If you'd like help creating a nurture email campaign, or simply have questions about how they work, Firespring Email Marketing experts can help you out.
4. A compelling sales campaign. While nurture campaigns are focused on adding value, like education and building trust, sales campaigns are focused on closing the deal. A great sales campaign will:
Focus on selling a single product
Identify the problem the product solves
Include strong CTAs in every email, ideally a link to a landing page on your website
Include a time-sensitive offer that creates a sense of urgency
Connect the campaign to an online trigger from your website
If you're like the great majority of print companies, you need more leads. Work with us to create a compelling content piece that you can use as a lead magnet to grow a list of highly qualified leads and engage potential buyers.