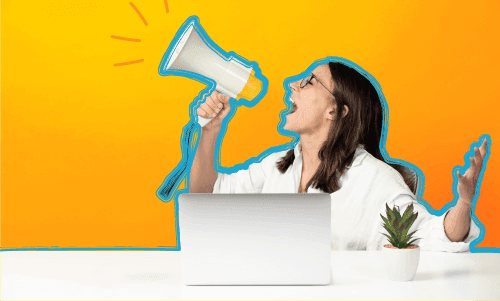 When it comes to prioritizing your budget to grow your business, marketing efforts are often the first to take a hit. When this happens, it's because the success of the marketing campaigns isn't evident (even if they are working!).
However, with the right marketing strategy in place, your marketing efforts are one of the best investments your print shop can make. Not sure where to start? Ensure your investment is being put to good use. Check out these ways that marketing can work for you.
1. Improve Your Bottom Line
Great marketing efforts produce results that will drive new customers your way and keep your current customers coming back for more. But how do you know they're effectively improving your bottom line? Analytics are key. No matter what channel you use for your marketing efforts, there should be a way to track how well a campaign is performing. These are just a few analytics you should be measuring with your efforts:
Your website: Measure site traffic, time spent on pages, bounce rate and form fills

Social media: Measure reach, clicks to your website and even match purchases with those who saw your advertising with paid social

Direct mail: Use targeted links or QR codes to track the success of individual campaigns, messages and audiences. Ensure you use these tactics to drive traffic back to a landing page that supports your individual campaign! That way you can track website stats, too.

SEO and PPC: Measure cost-per-click for PPC ads and SEO rankings for organic search content.
Measuring your marketing campaigns will show you which areas are working the best and where to best invest your budget for the best outcome, ultimately increasing your bottom line.
2. Generate Awareness
In order to land new customers, you have to invest in the right tools to spread the word. Marketing campaigns help catch the eye of people who are interested in your business, even if they aren't ready to buy at that current moment.
Research shows it takes 7-11 times for a potential customer to recall a brand, and marketing helps you get in front of those customers for when they are ready to buy.
Pro tip: Make sure to use various tactics to reach your target audience, including both print and digital. Use your printed efforts to show off what you can do while continuing to drive them back to your website.
3. Build a Solid Reputation
If somebody searched for you online and found no traces of your business, it could drastically hurt your credibility. Can you think of a single business you trust right now that doesn't have some sort of online presence?
Solid marketing helps build a solid reputation. That's because marketing is more than just the materials you develop. It also involves your branding, how you talk about your business, what you stand for and your mission. Marketing is the backbone of building a strong relationship both in your community and online.
4. Become a Printing Industry Expert
Putting content into the world helps establish your expertise within the printing industry. For example, writing a blog about how to get the most bang for your buck with your direct mail piece helps your audience decide when they should use full color or a two-sided piece, but it also shows that you know your stuff.
Plus, you can talk about the ways a printer can help with events, like signage, invites and more. Showing that you are an industry expert makes it more likely that a potential customer will choose you the next time they're looking to buy.
5. Engage New and Existing Customers
The most obvious yet often overlooked aspect of your marketing strategy is that it's designed to help you engage. After all, marketing is a two-way street! Printers often get caught up in sending out the best-looking pieces but fail to think of how your audience will interact.
For example, if you send a direct mail piece, it's vital to have a way for your customers to follow up. You can encourage online conversations on social media or your website. Make your business available to chat in order to open up doorways via your marketing channels.
Watch this webinar to learn how to interpret your website analytics to support your marketing goals. You'll also learn how to introduce marketing campaigns using your existing form pages, optimize your website pages to boost organic search engine results and use spotlights to market your website. After the webinar, you'll be able to create a monthly website strategy that you can tackle in just five minutes.