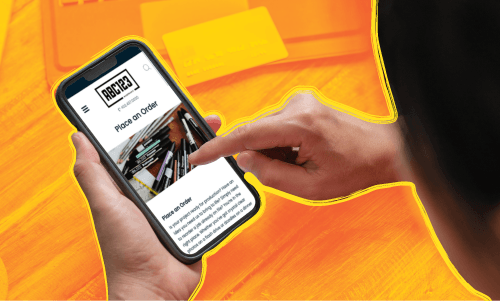 Introducing the #1 way to optimize your online orders! In a world where consumers expect easy-to-use tools and digital options, you need an online ordering platform that saves you time, money and headaches from dealing with customer service issues that could have been prevented in the first place! Not only is it a win for you, but it's also a win for your customers.
Introducing VersaDoc.
VersaDoc is a variable data tool that lets your users type variable information into frequently purchased items (think business cards, postcards, signage, etc.) and instantly view their proof.
Automatically provide files.
VersaDoc turns variable data projects into profit centers by providing instant, print-ready files. They'll simply log into the portal, provide the data to customize their projects and then proof and approve! You can configure Versadoc to automatically provide files, in which case you'll receive an email at the address you specify with a link for download. It's that simple. VersaDoc helps you take out workflow steps to streamline the online ordering process.
Save money.
By using VersaDoc, you can decrease costs by as much as 20% and save 10–20 hours per week! That means more time to focus on other areas of your business. Did we mention all of the things you could do with the cost savings?! (It's worth repeating… save up to 20%!)
Provide 24/7 access.
With our online ordering solution, your clients will have access to a 24-hour, password-protected online portal. With VersaDoc, it doesn't matter if you're open or if it's 1 a.m.! Your customers can order and approve their projects when it's convenient to them. Just because your schedules don't mesh doesn't mean you'll miss out on important business opportunities.
Give your customers the power.
It's time to put the power back into your customers' hands. With VersaDoc, they're essentially able to make and approve their own orders. Your customers will be happy that they can do the process on their own time without waiting on somebody from your staff to make the files and get them approved.
Ready to get started? Open your mind to a world of possibilities with VersaDoc by downloading our lookbook. Get the inspiration you need to see how useful VersaDoc could be for your online ordering system. Your customers will thank you, and you'll get time back to focus on other crucial aspects of your business!
Ready to get started with VersaDoc? Contact your support team at 877.447.8936.