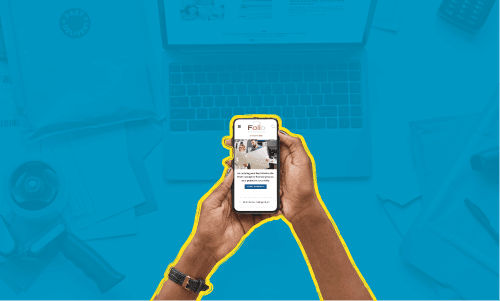 Sometimes it's hard to know when you should make a change. Maybe it's a hairstyle you've had for years or a habit you've been meaning to let go of. Or perhaps, a change is needed with a website you've had for ages! Change can come in many different forms, but when it comes to your website, there are some telltale signs you simply can't ignore that signify it's time for a change. Check out these reasons that it's time to consider a website redesign to ensure your marketing efforts don't pay the price for a website that isn't up to par. 
1. If you haven't updated your design in 5+ years.
The world of marketing moves fast, especially now more than ever. It's also true that customers interpret a company's website as a reflection of the company overall. 75% of customers admit that they judge a business's credibility based on their website design. That's why it's vital to make sure that your website looks fresh and more modern than your competitors. 
Logos may change over time. Brand standards will need to be updated periodically. Design trends change. That's why it's important to ensure you make the appropriate design updates to your website, especially if it's been more than five years (or even longer!). When in doubt, consult the experts. We're here to help, especially when it comes to design. Reach out to our team if you're looking for some inspiration or guidance.
2. If your website isn't mobile friendly. 
61% of customers say they are more likely to purchase from mobile-friendly websites. Think about it—how often are you scrolling on your phone when you decide to check out a website or click on an ad? If your website design isn't responsive, your customers (and potential customers) will have a negative experience. Responsive design means that your website design looks good on a phone, tablet or computer screen no matter the size.
If you've ever clicked on a website URL on your phone and noticed that you needed to scroll all the way to the right in order to find a button and that the design looks exactly how it does on a wide screen, the design was not responsive. This only leads to a frustrating experience for your end users. Plus, without a mobile responsive design, your site won't be in Google's good graces and your company won't be able to stay ahead of the competition.
3. You're not attracting the right customers. 
Your website promotes your business online 24/7. So, if you're not attracting the right customers or potential customers that convert, what gives? This is a sure sign that you'll want to update the way you're positioning yourself online. Consider using a focus group to understand what's working for your site and what's not. Find out if the action you want your website visitors to take next is clear or if you should update your call to action to be more prominent. 
When consumers were asked what visual elements they value on a company website, 40% said images, 39% said color and 21% said video. It's important to ensure the look and feel of your website design and content reflects the rest of your brand. After all, you want to put your best design foot forward. 
If this all sounds a bit daunting, we've got you covered! We can help design the website of your dreams—one that will help guide your users from point A to point B and that looks great while doing it. Schedule a chat to learn more about a custom website design or our pre-designed themes available to you.