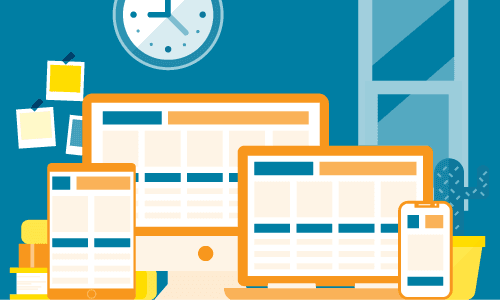 Design trends come and go, and if your website design is starting to look "so 2015" or worse, it may not be projecting the image you want or showcasing your brand in the best possible light.
Thankfully, you have options, and we can help you update your look in a snap.
Don't let your website cost you—give customers what they want with a website that looks good and performs well on any screen. Now that more people are doing business online, put your best digital foot forward with a look and feel that'll propel you into 2022 and beyond. Take a look at your design choices.
Then connect with Nina to talk about your next move.
Not convinced that your website needs an update? 
The numbers may tell you otherwise: When asked what visual elements they value on a company website, 40% of consumers said images, 39% said color, and 21% said video.
Get ready for a new year with a new look and a website design that embodies your brand and your business. Schedule a call with Nina.

P.S. If your website is not responsive, it's not too late to make the switch! A responsive website will:
Offer full website functionality on mobile and tablet.
Fare better with Google (whose search engine favors responsive design).
Build strong brand recognition with an optimized experience across all devices and platforms.
Clean up your site structure so it's easier to navigate.
Plus, did you know? These website features are only available with a newer design:
ACH online payment processing
Blogging capabilities
Social sharing
Customizable alert bar
Coupon codes
VersaDoc same screen preview
Advanced image gallery
Image slideshow