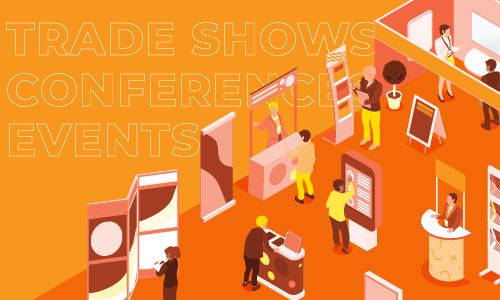 After almost 18 months apart, people are starting to make in-person events a thing again—which means many of your clients will be looking for the printed materials they need to pull off their next event. Time to make sure they have what they need.
Whether you work with businesses or nonprofits, help them stand out from the crowd with printed promotions and collateral, like:
Posters
Step and repeat banners
Pull-up banners
Brochures
Flyers
Product guides
Folders
Business cards
Invitations
Branded promo items
The great news is you have the perfect place to promote all of these: your website.
Product Pages: Customize your product pages to showcase your specialties.
Add a testimonial: 88% of consumers trust online testimonials and reviews as much as recommendations from friends or family. (Big Commerce)
Add a "Get a Quote" button (not just a form) for customers who are still shopping around.
Add photos and examples of your actual work to replace stock imagery. 
Update your pricing: Is it current?
Spotlight: Use that large, attention-grabbing spotlight on your homepage to highlight specific products or promotions and drive people to your product pages. You can upload images to your spotlight library and edit them directly on the Springboard (or choose from the millions of stock photos available in your Springboard.)
Search Engine Optimization:
Do keyword research. You need to know what people are searching for in order to make yourself findable.
Understand the searcher's intent. When a person types a word or phrase into a search engine, they have a particular goal they want to achieve, or a search intent.
Optimize your title tags and meta descriptions. These help tell both people and search engines what a specific webpage is all about. 
We have so many ideas for how to use your website to drive sales and promote your products—if you need help or advice, we are here for you!