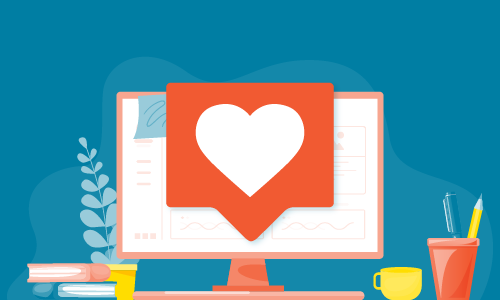 Valentine's Day is around the corner, but we're going to skip the hearts and flowers and give you what you really need: freedom. 
Your website is built to do a whole lot of heavy lifting, freeing you to do the things you're passionate about—customer service, product innovation or anything else that makes your heart skip a beat.
How can your website help? Here are five things it can do for you.
Attract more online customers.
This is where people are shopping these days, so review your analytics. Choose the top five pages you want on Google's nice list, and add your city to them so they're optimized for local SEO. Got time for more? Use these tips to boost your site's rankings and increase your online traffic.
Make your sales calls more personal.
You don't have to dazzle them with a tap dance; let your website be the star. For your next meeting with a prospect, create a portal with catalog items—add in their logo so it's personalized. If you have an in-person meeting, take your newly upgraded sell sheets. Storefronts are impressive web-to-print solutions that'll knock their socks off—plus, they can help increase your per-order revenue by up to 20% and lock in repeat customers.
Increase proof efficiency so you're not bogged down in process hell.
Choose one customer. Instead of emailing them a proof, send it using your website. They'll be able to approve or submit changes right through their portal. This streamlines your workflow, eliminates the need to create and deliver expensive color proofs and makes the entire process a piece of cake for everyone. 
Predict future orders so you can create the right campaigns.
Log in to your Springboard and go to your Message Center—now look at your online orders. Notice any trends? Use past customer orders to predict what future customers will buy. Maybe you'll see items that are frequently purchased together—or products that resonate with a particular industry or vertical market. This valuable info will help you create campaigns that speak your customers' language. 
Make your work shine.
Show off what you do best! Update your product pages, like Marketing Materials, Signs & Banners, Invitations & Stationery, etc. with images of your own projects so it's easy for customers to find what they're looking for while they check out the quality of your work.
Love what you do and do what you love—let's free up your time for that. Get more tips for putting your website to work by attending our webinar, "Grow Revenue with Catalogs." Get a peek at some top performers' customer storefronts, learn how to create catalog items that get results, plus get tips on how to use vertical markets to gain new customers.