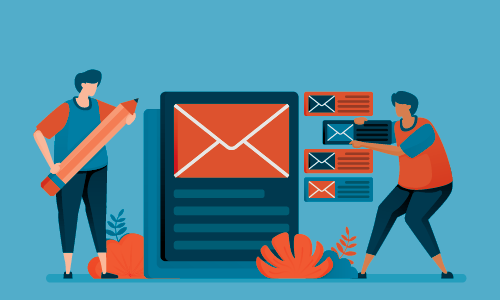 It's good to be reminded: Email marketing still works. In fact, it remains one of the most cost-effective marketing tools.
At Firespring, we've made powerful email marketing easy for businesses like yours. It can help you boost revenue, retain customers and message the right people at the right time—in fact, 80% of business professionals believe that email marketing increases customer retention. (Hubspot)
For a successful email marketing plan, we recommend sending these five types of emails in order to create best engagement and ROI results.
Welcome: After a customer inquires about a product, makes a purchase, or engages with your business, say "welcome!" with a drip campaign. Fun fact: Welcome emails get four times higher open rates and five times higher click-through rates than traditional emails (Experian). Here's a quick example of an easy welcome series that you can automate:
Invite them into your community with a quick hello and a little info about your company.
Follow this up with a promo code for their next purchase.
A few weeks later, remind them of the promo code and introduce a new product or service.
When they do place an order, easily add them to a segment group to send out a thank-you email. 
Thank you: This goes without saying, but we'd be remiss to leave it off the list: Once your customer's product is delivered, send a thanks and ask for feedback. Thank-you emails have an engagement rate of 62% (Hubspot). It's no secret that consumers like to be appreciated. 
Product highlight: Send timely messages for products that correlate with your customer's buying season. For example, in October showcase holiday cards or calendars. A call to action button (as opposed to a link) boosts conversion rates by as much as 28%. (WPForms)
Promotions: Send customers an email with a promo code for dollars off, percent off or even free shipping. It works: 60% have bought something directly influenced by a promotional email. (Optinmonster)
Testimonial: Peer reviews matter. Show work you've done for a satisfied customer and include a short testimonial. According to Demand Gen Report, 97% of B2B customers cited testimonials and peer recommendations as the most reliable type of content. 
The PrinterPresence email marketing platform integrates directly into your website, which means you can easily capture email addresses, segment your audience into the appropriate list and automate the most relevant messages for each subscriber. According to Campaign Monitor, automated emails can boost revenue by as much as 320%.
Want to see how all of this can apply to you and your business? Nina's got the goods. Schedule a chat.
Pro tip: Add personalization to your emails—first name, company name, last order date, past items purchased. Use your audience lists by dividing them into smaller groups (segments) based on the information they provide, such as gender, age, location, type of purchase. Personalized emails deliver 6x higher transaction rates, according to Experian.