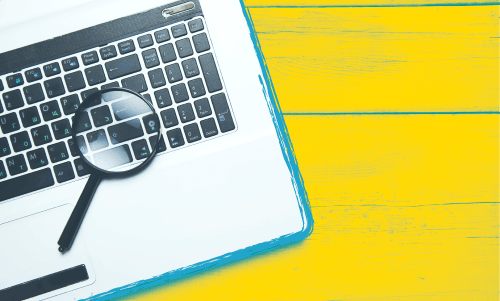 Getting your website to rank higher in search results isn't as complicated as you might think—sometimes, little tweaks and updates in the right places can make a huge difference.
Consider the first action someone might take when they are in need of printing services—chances are, they open up a web browser, fire up a search engine and type in some key words they're looking for. Maybe it's "printing services near me" or "company banners" or even "trade show materials." No matter what they type related to your print shop, you want your business's name to be at the top of the results.
In order to get your website to the top, let's talk about some common SEO terms and how you can boost your website's ranking on the search results page.
Content
When it comes to your website content, you'll want to use keywords naturally in the web page text. However, make sure to repeat them as necessary. Remember the types of content you can update with your Springboard: headlines, text, image captions, image alt tags and more.
What to do: Determine what keywords you want to rank for, and make sure they're sprinkled liberally (but naturally) throughout your website. Places to include relevant keywords include:
Title tag
Description tag
Body copy
Header tags
Bulleted text
Links
Alt tags
Image file names
Tip: Make sure to avoid keyword stuffing, which means adding keywords just to add them and in ways that don't make sense. Google can pick up on keyword stuffing and prevent your web pages from rising to the top if you try this tactic.
Title Tags
Title Tags are the text shown at the top of your browser window and the label of the browser tab. It's also the clickable headline shown on the search engine results page (SERP). Title tags tell visitors what they can expect to find on a specific page.
According to Moz, "Google typically displays the first 50–60 characters of a title tag. If you keep your titles under 60 characters, our research suggests that you can expect about 90% of your titles to display properly."
What to do:
In your Springboard click My Website and then Website Content.
Click the gear icon for a page and click Edit SEO Info.
Type your text into Search Engine Title. If you leave it empty, what you've typed into the Page Title field will be used.
Keep this window open and move on to the next step.
Description Tag
Your description tags are a short summary of a webpage. It's the paragraph of text that shows under the title tag on the SERP and convinces someone to click on your website over all of the others listed.
What to do: Focus on keywords, and make your blurb compelling so they want to click on your website. Don't make it too salesy though, and keep your description under 160 characters.
Tip: In your Springboard, you'll find this also on the Edit SEO Info window as described above.
Links
According to SEO expert Neil Patel, "Backlinks are the building blocks of your webpage. They tell Google that you're connected and sociable and that you've got useful content people can access. This content could be your own, or it could be from another author or site." What is a backlink? In basic terms, it's when another website links to the content on your site.
What to do:
Link to relevant content within and outside your site.
Aim for high-quality backlinks. Look at content that is performing well and has good information behind it.
Write original content to promote it. That way, you can use your original content to backlink.
If you're unsure just how SEO-optimized your website is or you'd like to know more about how to boost it to the top of search results, we can help you with an SEO assessment. Reach out today, and we'll help you get started.