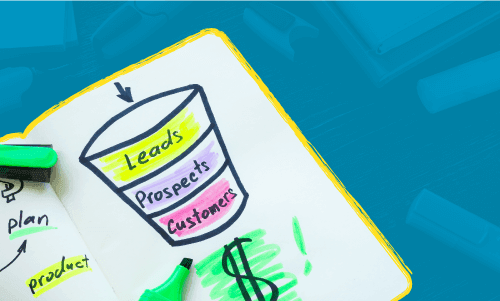 Did you know that the cost of acquiring a new customer has increased by 60% in the past six years? Yikes—talk about a tough sale! Luckily, sales funnels help combat these rising costs. Plus, they provide the flexibility to personalize details specific to your sales process. 
A sales funnel is composed of a top, middle and bottom funnel that helps you identify where a customer is and when they would most likely move toward making a purchase with your company. The various leads you have will be inserted into the stages of your funnel to help determine what they might need to move forward. Ready to make one on your own? Below are five reasons you should consider developing your own sales funnel! 
Reasons You Should Make a Sales Funnel:
It's inexpensive. Luckily, building a sales funnel is inexpensive. Free resources exist online to help you, and we've even created a cheat sheet to help guide your way. The tools you're using to help push your customers through the sales funnel can also be fairly inexpensive, like free email marketing tools to help set up a drip campaign or lead cards using social media.
 
You can narrow down exactly what you'll need and save money. There are some areas where you'll want to splurge and some where you can save. Consider the tools you need to reach your potential customers at each stage of the sales funnel and what would be a good return on investment. Maybe email marketing is important, and you need a robust tool. Or, maybe direct mail pieces are your big splurge item to really seal the deal. Determine what works for your business!
 
You can personalize it. Your business, your rules. If you know your typical leads come from social media, focus on putting that at the top of your funnel. If your leads are largely referrals, that will go at the top. Personalize how your customers work through the funnel, and go from there! 
 
Your clients will notice your hard work. Not everybody will be the perfect fit for your company. A one-time sale is just that—not a lifelong relationship. A sales funnel helps you invest in those people who are truly interested in what you have to offer and will be repeat customers for years to come. 
 
The return could be exponential. When you have a better understanding of what your customers want and need to make that purchase, the return on your investment could be huge. Anticipating what your customers need will help strengthen your partnerships and boost your business. It's all about the relationships you build with your customers.
Let's get started with creating your sales funnel that is effective and easy to use! You'll want to follow the four key elements outlined in this downloadable cheat sheet.