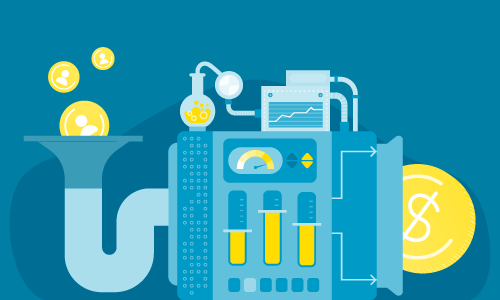 The sales journey is a marathon, not a sprint. You ready?
If you approach sales like it's a short line between A ("Welcome to our printshop!") and B ("Cash, check or charge?"), you may find that many prospects drop out before they get there. That's because most buyers are not sprinters—they're marathoners, and selling is not like flipping a switch. It's a process.
This is why you need a sales funnel—a marketing term for the journey potential customers go through on the way to a purchase.
A sales funnel has several stages, usually known as the top, middle and bottom (though this varies according to each company's sales model). However you structure your funnel, this is where you place your leads (potential buyers) to gently move them toward their buying decision.
Developing a sales funnel takes the guesswork out of your marketing efforts, plus:
You can do it inexpensively.
You can create one on your own terms.
You'll know exactly what channels to use when and what assets you'll need—no wasting unnecessary marketing dollars.
You can get an enormous return if you're willing to go the distance with your potential customers.
You win over clients without being pushy.
To create an effective sales funnel that results in satisfied customers (and happy salespeople), include the four key elements outlined in our newest FREE cheat sheet—the one we have here with your name on it.
Download "4 Key Elements of a Successful Sales Funnel" now to get started.