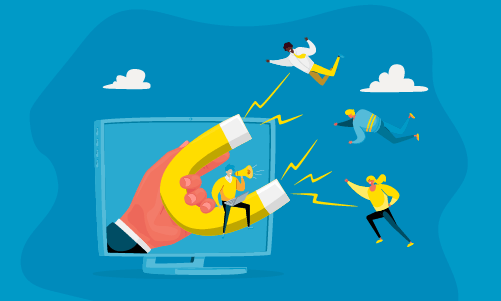 Every business needs new customers, yours included. You have a powerful tool: Did you know that your website has the functionality to be a huge lead generator? Before we look at five ways your site can fill your sales funnel, let's make sure you have a good foundation.
 
FIRST STEPS
Develop a one-liner. This gives you a simple, clear and memorable way to tell prospects what you do and how it benefits them, and it's something you'll want to pepper all over your marketing channels.
Know your target audience. When you know who you want to attract, you'll be better able to create relevant content to reel them in. If you target everyone, you may reach no one.​​​​​
NEXT STEPS
Once you've checked those boxes, turn your website into a lead magnet:
Create content. Maybe it's an ebook about how to marry print and digital marketing or an article about "what's an NCOA mailing list?"—create something valuable for your audience and put it on your website. The catch: Make it accessible to visitors who provide an email address. Then you'll be able to add them to your email list and get them in your welcome drip campaign to nurture that relationship.
Develop an effective landing page. Once someone's consumed your content, get them to a webpage to take action with conversion-focused elements, like a form and a clear call to action—something specific you want them to do. 
Speaking of forms, use them. This is where you can capture more than an email address, like location, their company or what they're interested in.
Add clear CTAs. A call to action (CTA) tells your online visitor what you want them to do: Buy Now, Sign Up, Request an Estimate. A successful CTA is all about placement, length and a bit of oomph. Make it short, compelling and eye-catching.
Use analytics. Look at page hits, referrals, unique users, bounce rate. If people are bouncing quickly, maybe your text is too long or needs to be revised to be more scannable. Your analytics can tell you which pages are working—or not.
IMPORTANT STEPS
Once you have your website ready, get eyes on it. Take a multi-channel approach to drive traffic to it. ​​
Social media: Run campaigns and ads with links to your website.
Email marketing: With every email you send, include a link, either in a CTA button or your email footer in your signature line.
Search engine marketing: Do keyword research to see what your audience is searching for, then think about investing some marketing dollars in SEO. 
QUICK STEP
Talk to us! How can we help? Chat with one of our lead gen experts, Nina, about how to turn your website into a lead magnet and start filling that funnel.