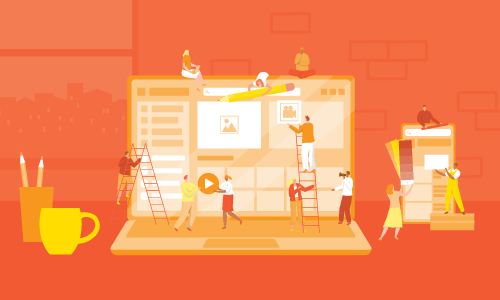 Last year threw a lot of curveballs, but your PrinterPresence team worked hard to make sure your website was not one of them. We introduced innovative features to help you win new customers, secure repeat buyers and grow your business. Our goal was to keep your website running at peak performance so your business could stay open and available 24/7, even if your store was not able to be. 
Let's hit the highlights: Here's a recap of the top 10 ways your PrinterPresence website got even better in 2020.
1. Website notices. Create brief messages to prominently notify your website visitors of an important or timely announcement.
2. Email marketing integration. Automatically add visitors to email marketing groups when they complete a website form and send them relevant, targeted emails.
3. Button content type. Easily create buttons to create calls to action and deeper engagement on your site.
4. Image gallery. Show off your work beautifully with simple drag and drop photo galleries.
5. Image slideshow. Upload photos in bulk and instantly display them on your website. Display one image at a time or let users manually advance them.
6. New image editor. Easily crop, resize, rotate or flip your images directly
from the Springboard.
7. New spotlight image editor. Upload images to your Spotlight library and conveniently edit them directly in the Springboard.
8. Stock photography integration. Find millions of quality stock photos that bring your story to life, for free, directly in your Springboard.
9. Updated email notifications style. Look your best with a more modern email notification design each time a website visitor interacts with your website
10. VersaDocTM and customer portals sell sheets. Personalize these beautiful new sell sheets with your logo and website and wow your clients with the benefits of these robust revenue generators.
And a bonus: New design: Folio. Want a new look for the new year? Folio includes a prominent search bar, sticky internal navigation that stays with your customers as they scroll and clean lines throughout.
On the horizon for 2021:
Single sign-on (SSO). With single-sign on, customers can log in to their personalized storefront without creating a new username and password or having to deal with the hassle of memorizing another password.
Improved ecommerce setup. We've started rolling out changes for an effortless setup that will make it even easier for you to create an online storefront that connects with UPS, FedEx or a custom carrier. 
In spite of last year's challenges, your website is better than ever with more to come. As always, check out the bell notification in your Springboard to know when new features or functionality has been added.
Cheers to a new year of innovation and success with your PrinterPresence website at the heart of it all.