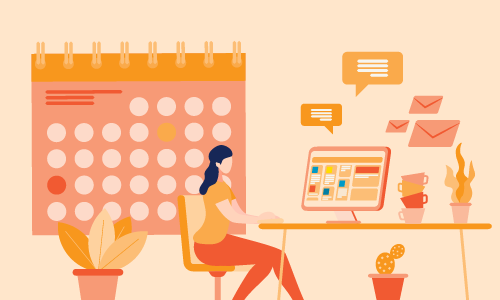 You know that "two birds, one stone" saying? Here's one idea that can help you solve two problems:
Start talking "end of year" with customers and move future business to the present. 
We understand how hard 2020 has been on the print industry, and the future may still feel uncertain. But as businesses are opening up and reigniting their marketing, there's time to turn things around and make the second half a better half. Don't give up and fast-forward to 2021; get customers thinking about the end of 2020.
Many companies and nonprofits want everything from direct mail to reports to brochures and flyers printed for their end-of-year push in Q4, and that will likely still be true this year. Why not be proactive and see what you can get accomplished now to alleviate last-minute pressure? Most marketers have a year-long plan and know what they'll need for their end-of-year printing. And if they don't, this will be a great reminder for them to plan ahead now.
Here are five ways to get things moving:
Send a postcard advertising "Christmas in July" (or something similar) and drive them to a landing page with a promo code.
Create an email marketing drip campaign with reasons for customers to plan and order ahead and a promo code for typical year-end supplies (e.g., fundraising materials and appeals, holiday store signage and cards, calendars, trade show booth and conference materials for 2021). 
Add a spotlight to your homepage highlighting end-of-year products with a "plan ahead" theme.
Make a video to show the process of planning a year-end campaign from start to finish with a message to alleviate last-minute stress. 
Write a blog post giving tips about planning an effective year-end integrated marketing campaign and what supplies your customers can jump on now rather than later.
Our marketing experts have already put a lot of thought into this for you and created a guide you can use to get the end-of-year ball rolling. Let's drum up some business!