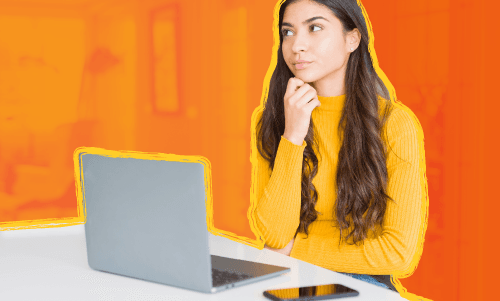 They drive sales. They gather event attendees. They guide your prospects through the lead funnel. We're talking about a component of your marketing campaign that can't be ignored—landing pages! 
A landing page is where you can drive your audiences to take the next action you want them to take, and they're incredibly important to converting your audience. Let's dive into the vast world of landing pages and answer some of the top questions that are sure to set your shop up for success.
What are landing pages?
Simply put, a landing page is a website page that has a single, focused call to action. Think of it as a place for your audience to "land." They get there from a direct mail piece, a social media ad or post, or any other forms of marketing you use. It's often not featured in the home navigation because it has a single call to action and purpose tied to a marketing campaign.
Why do I need landing pages?
They can help you easily track the success of a single marketing campaign and drive your customers to take the action you desire. The action can range from collecting email addresses so you can follow up with more information, to purchasing a specific deal or product, to simply getting somebody to your site via a marketing tactic so you can track the success of that specific campaign. Because the focus of a landing page is on one single call to action, landing pages tend to have a higher conversion rate than other web pages with multiple calls to action.
How can I optimize my landing pages?
We're so glad you asked! There are a few tried and true methods to getting the landing pages of your dreams, including these tips:
1. Focus on Design
If the page is designed well, visitors will know exactly what you want them to do within five seconds. That's right—FIVE seconds! In a world where we all have short attention spans, how you design your landing page is critical to its success. 
2. Be Consistent
Make sure to keep the messaging between your ad and landing page consistent. If someone clicked on a link in an email that said "Buy XYZ product," use the same language and images to create a seamless user experience. Your audience should not be confused from one message to the other.
3. Keep it Clean
An effective landing page should have a clean, organized design. Its goal is to create the easiest experience possible for your visitor. Keeping the design crisp and neat will make it more effective for your visitors and drive lead conversion. The less your audience has to do to understand what you're trying to tell them and get to the end goal, the better!
4. Create a Single Call to Action
You want one call to action (CTA), and that's it. The CTA button should be eye-catching! Use a color that stands out from the rest of the content on the page. Avoid terms like Submit or Finish. Think of this as an "I want to" button. Visitors are much more likely to say "I want to Buy this Product!"  versus "I want to Submit." Strong, clear and fun CTAs can be the ultimate difference between a bounce and a lead-conversion.
How can I get successful landing pages? 
Have no fear—Nina is here to help! Contact her today to get help optimizing your landing pages for conversion. We can help with content writing, configuration and getting images optimized and loaded into your website. Together, let's create landing pages that convert for your business.