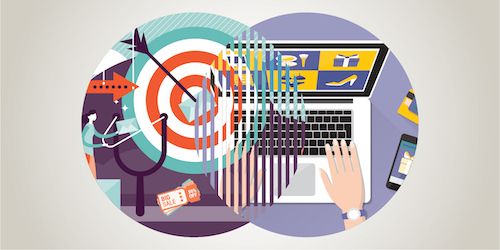 Right now we're all faced with a new normal (albeit temporarily), and the number one concern of business owners is, "How do I keep sales up?" 
While you might not see a lot of actual foot traffic to your store at the moment, now's the perfect time to marry your offline efforts with your online presence. When you do it effectively, you can create a powerful and compelling union that can enhance your sales strategy, create better brand awareness and ultimately improve your bottom line—not only right now, but moving forward.
Here are three easy ways to integrate your marketing efforts with your website, turning it into a more powerful converting machine–something you need more than ever right now.
Send direct mail and drive people to a landing page. Need to help customers switch their focus from in-person events to online? Want to show that direct mail is still relevant? Send a printed piece offering to strategize their next move, then direct them to a landing page where they can get more information and sign up for a consultation with you. A postcard, flyer, newsletter—any printed piece that both shows off your beautiful printing capabilities and showcases the URL of that landing page is a win-win.
Put a wrap on your vans with your URL and social media platforms. Might as well kill two birds with one stone—or vehicle, as the case may be—by promoting your online presence and platforms while your drivers are making deliveries. Drive traffic to your website while you're driving around in the real world and encourage people to do business there. 
Use free swag to drive people online. While most events have been canceled, you can still send free swag via USPS for a fun surprise in your customer's mailbox. It's yet another chance to show off your printing capabilities and promote your website. Steer people to a page where they can sign up for your emails, then get them into a welcome email drip campaign to show them all the ways your business can help elevate theirs.
 
What can we do to help you integrate your offline and online marketing and sales efforts? We'd love to talk to you about how you can leverage your website and grow your business in 2020 by making sure your real-world efforts and online strategy are working together in harmony.