Springboard Training
To make sure your website is a driving force behind the success of your business, PrinterPresence offers a range of training and support opportunities so you can get help when you want it, how you want it. These services are offered as part of your monthly subscription fee at no additional cost.
---
Step-by Step Classes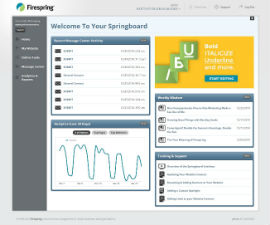 Watch and learn the basis for managing all of the content of your website, from text and images to catalogs and storefronts.
Springboard 101
Making the Most of Your Online Tools
Online Ordering
All about Content
The Skinny on Portals
---
Interactive Workshops
In these interactive workshops, learn ideas for using your website as a marketing tool and log in to your Springboard along with your instructor to make updates on the fly.
It's Time for Recess!
Springboard 411: Marketing Your Website
---
Discover the power of variable documents by learning how to download the print-ready files from your website, prepare and submit art files for setup and a quick overview of the entire process.
Intro to VersaDoc™
Intro to VersaDoc™ Studio
---
Customer Storefronts
Learn how to build effective customer storefronts and discover strategies to increase sales and keep your customers coming back for more.
Increase Sales with Customer Storefronts
---
Online Support
In your Springboard, you'll find an interactive online support section that contains a list of frequently asked questions that are searchable by keyword or topic. This feature is available 24/7 and offers you a wealth of knowledge about PrinterPresence. Additional information is available in your Springboard.